Microsoft Access Sample Code
Function for using DAO (Data Access Objects)
DAO (Data Access Objects) are APIs that give you the ability to write applications that are independent of any particular database management system (DBMS). In other words, DAO is a programming interface that allows you to communicate with data objects in your database using VBA code. This type of interaction can be very powerful and provide you some great flexibility in your Access Database. In order to use DAO, you must set a reference to it in your Access Application. The screen show below shows a project that has a properly setup reference to DAO: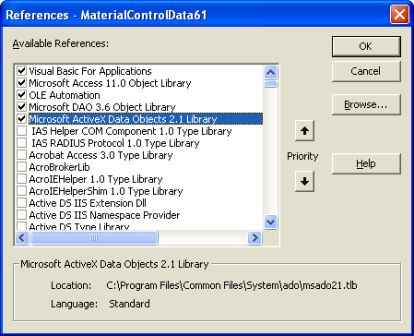 After setting the reference, you can than use the DAO objects to interact with Data in your database and other databases depending on your connection setting. Note, the sample code below is just a sample and will not work in your Application unless certain changes are made to work specifically with your data objects.
The Microsoft Access DAO Database is a sample database that shows you a number of ways to use the the above function.

Please note that this is a template database. If it doesn't meet your needs 100% and you're unable to customize it yourself, let us know and we'll provide a quote to develop the customizations you need to get you exactly what you want in your DAO System.

Having problems getting the code to work for you - then try out the demo to see if the demo works for you.
Download
a demo version for free to try out. The demo version is in Access 2007 which will work on either Access 2007, 2010, 2013 or 2016. If you need a previous version of Access to tryout, please
Contact Us
. Please note that the demo version of the software is fully functional but doesn't allow you to see the code implementation - the full version allows you to design the code implementation and tweak it for your needs.
Access 2007 Download
Access 2010/2013/2016 Download
Access 2010 64 Bit Download
Access 2013/2016 64 Bit Download
The full version of the database is a standard Access Database file. You will have full access to the database window, all design objects, the visual basic project code, and you will be able to modify or add to the design in any way you wish (this does not apply to the run-time/compiled versions). If you lack the time to integrate this database into your system, please Contact Us and we will be glad to help with your integration process. If you like the basics of what you see in the database, but need enhancements to make the system functional for your business, please Contact Us and we will develop a quote for you to implement the additional features and enhancements that you require.
$19.99 - this allows you to use this database template however you wish within your organization.
$39.99 - for unlimited developer use - this allows you to use this database template however you wish for any applications you develop and distribute.
Once your purchase is complete - you will receive an email within 12 Hours (shorter during standard business hours) with a link to download the full version of the database. Please be sure and check your junk mail folder as this often ends up there.
If you need any help implementing this function or modifications made for your needs, please
Click Here
to get a free quote for your Microsoft Access Development needs. WSI will determine your needs based on written requirements that you provide. Please ask your WSI representative to send you an example of what constitutes sufficient written requirements. If you need assistance preparing the necessary requirements, WSI offers a fee based service to assist you. Please ask your WSI representative for details or you can review our
process mapping service
.
Click Here
to learn more about the WSI quoting process.